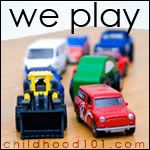 The girls and I are playing along with We Play again. You'll find lots of brilliant play ideas at
www.childhood101.com
.
Don't you just love how much the mind of child aged 3+ explodes with endless creativity? We have a steady flow of ideas floating around this house which come from Miss M who likes to make up her own games. Today she created a game of "sisters" where Miss M, Miss H and I became sisters. She would go off to
kindy
/ school and sleep in her sleeping bag which was really a sack race sack. Miss M doesn't go to
kindy
in real life but is really looking forward to going next year. It was lovely to see her set up a game which included Miss H as this sometimes seems tricky to do with "big girl fun".
We also enjoyed a tea party with the toys, a coffee shop in my kitchen while morning tea was happening and a concert with play microphones.
It was the game pictured above that interested me the most. You don't often see games with cars happening in this house but we do have some available for the girls to play with whenever they'd like to. Miss M (3.5) tore pages out of an old note book I had given her and placed each page carefully around the little blue table. She then asked Daddy to play the game.
The aim of her game was to race the cars around the track and the first car to get to a break in the track was the winner. Miss M had organised pencils to write the winners name on the paper which had to be put exactly in the place where they had won. Sadly I missed the game as it happened early in the morning but I was super pleased to hear all about it and see the set up left there. Sometimes I wonder what game is coming next! No two days are the same in this house as something new is always being played.

Where have your kids' imaginations taken their play lately? I'd love to hear what they've been up to and I'll especially enjoy looking at all the wonderful ideas in this week's We Play.
Come play over at the Childhood 101 We Play link up