The girls and I are playing along with everyone over at Childhood 101 for We Play again this week.
We have plenty of toys for our girls to enjoy and most of them were found in what my new friend calls "designer shops" (Op Shops). Some toys were gifts from friends and family and of course we've also given some ourselves as gifts. We have toys that inspire play from construction to role play to problem solving to creative art. I love looking for educational toys at Op Shops for a small price (very small!).
Could my girls survive without all these toys?
Without a doubt my answer is yes! I have seen play come from nothing but the joy of a friendship and the inspiration and imagination each brings to the friendship. When my niece Miss L and my own Miss M get together their imaginations run wild. They have particular strengths in opposite areas of development and yet some are quite similar. To put the two together they can be dynamic in play!
There's endless hours of fun and games with that amount of love and friendship!
"The love of a family is life's greatest blessing."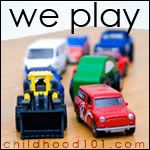 Come play at the
Childhood 101
We Play link up