The girls and I are playing along with everyone over at

Childhood 101

We Play today.


A big racquet for a little girl


I really don't know what the real name of this game is. I always wanted one of those swinging tennis games when I was a kid - the ones tied to a long string on a pole. We always knew other kids who owned them so we had a great time using theirs when we were over for play dates.

An easy idea that is quite similar is to put a tennis ball inside a stocking, with a knot at the top of the ball and hang the stocking from the clothes line or a support beam. Ours hangs from our very old Hills Hoyst clothes line which is a perfect spot for it. Just find a racquet (in our case it's Daddy's old squash racquet) and have a go at hitting the ball as it swings around.

I'm still keen to own one of the real swinging ball sets and they are well within budget coming in at under $20 for all that crazy fun. For now though, we will enjoy our swinging stocking ball which still provides my girls with the opportunity to practise using a raquet and aiming for a ball. It's a great hand/ eye co-ordination activity.

You know I think I might keep giving it a hit too. As the story goes, my brother and I used to take tennis lessons on a Saturday morning when we were quite young. Mum and Dad came to watch us one particular morning and were so embarrassed by our efforts that they took us out of lessons. This always gives me a good giggle. Now art or craft classes I may have been able to handle! ; ) And my brother, well, he is a keen basket ball player.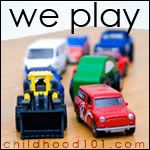 "Come and play at the Childhood 101 We Play Link Up"