The girls and I are playing along with everyone over at
Childhood 101
We Play
.

I promised you I'd give you a look at our spring mural as we continue to work on it, adding things here and there. We've had two more days creating and glueing since my last spring mural blog post .
Yesterday Miss M was in the mood for creative arty fun so she spent the afternoon making various spring things to stick on our mural. The fun did start though with Miss H and I working on the rainbow together, which Miss M then finished off. We just had to add a spring rainbow after seeing a most beautiful rainbow follow a spring shower of rain the other day.
Miss H added the simple things to our mural, like centres to her gorgeous patty pan flowers while Miss M thought to create the clouds, insects, a bird and a bird's nest.
So here it is so far....
The new things we added are...


tissues for the clouds
a pom pom for the centre of a flower
tissue paper + paper for a rainbow
yellow feather for a bird
crepe paper + pipe cleaners twisted to make butterflies
Easter stuffing (paper) to make a bird's nest
felt for the centre of a flower
google eyes to add to the mouse
Our mural continues to be a work in progress because we're still keen to add more animals and water life. It's going to be one very full picture when it's done. Spring has definitely sprung here in our play/ art room!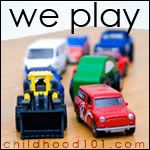 Come play at the Childhood 1o1

We Play

link up.