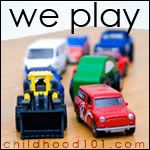 Today I'm playing along with everyone who has joined in 'We Play' over at Childhood 101. It was a home day play day for us. The girls played all day in various games, sometimes together, sometimes separate but this was one game I enjoyed being a fly on the wall for. Two mummies with their babies out for a walk to the park (our swing set). The littlest stroller is our latest treasure find - just right for a cute little mummy.
"Hello, how are you?
Do you want to come to the park with me?"
* * * * *
Come and play at the Childhood 101 We Play Link up